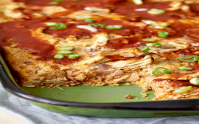 If you like chicken, BBQ sauce, and cauliflower, this casserole will be right up your alley. Because we're keeping this version
Paleo-friendly, it lacks the usual suspects typically mixed into casseroles, like cheese, bread, pasta, and grains. Instead, a few beaten eggs work as the glue that hold this mixture of juicy shredded chicken, tender cauliflower rice, and sauce together, and prevent it from drying out.
BBQ Chicken Casserole
Serves6 to 8hbhh
For the sauce:
1 (6-ounce) can tomato paste
1 cup low-sodium chicken broth
1/2 cup apple cider vinegar
2 tablespoons honey
2 tablespoons coconut aminos
2 cloves garlic, minced
1 teaspoon onion powder
1 teaspoon smoked paprika
1/2 teaspoon chili powder
1/2 teaspoon kosher salt
1/4 teaspoon freshly ground black pepper
1/8 teaspoon cayenne pepper
For the casserole:
Instructions
Arrange a rack in the middle of the oven and heat to 400°F. Coat a 9x13-inch or 2-quart baking dish with oil; set aside.
Make the sauce: Whisk all the ingredients together in a medium bowl until well-combined; set aside.
Make the casserole: Arrange the chicken in a single layer in a large saucepan. Add enough cold water to cover the chicken breasts by 1 inch. Bring to a boil over medium-high heat. Reduce the heat to low, cover, and simmer until the chicken is cooked through and an instant-read thermometer in the thickest part registers 165°F, 8 to 12 minutes depending on the thickness of the chicken breasts.
Transfer the chicken to a cutting board or large plate and use 2 forks to shred the meat while still warm.
Place the cauliflower and eggs in a large bowl and stir until well-combined. Stir in the shredded chicken, onion, 1 1/2 cups of the sauce, salt, and pepper. Transfer to the prepared baking dish and press into an even layer. Pour 1/2 cup of the sauce over in an even layer.
Bake until the casserole is set and lightly browned around the edges, 40 to 45 minutes. Let sit for 5 minutes before cutting and serve. Drizzle with the remaining BBQ sauce, top with scallions, and serve.
Recipe Notes
Make ahead: The sauce can be made up to 2 days in advance and stored in an airtight container in the refrigerator. The chicken can be poached and shredded up to 1 day in advance and stored in a separate airtight container in the refrigerator.
Precooked chicken: To skip cooking use 2 1/2 cups shredded rotisserie chicken instead.
Storage: Leftovers can be stored in an airtight container in the refrigerator for up to 3 days.