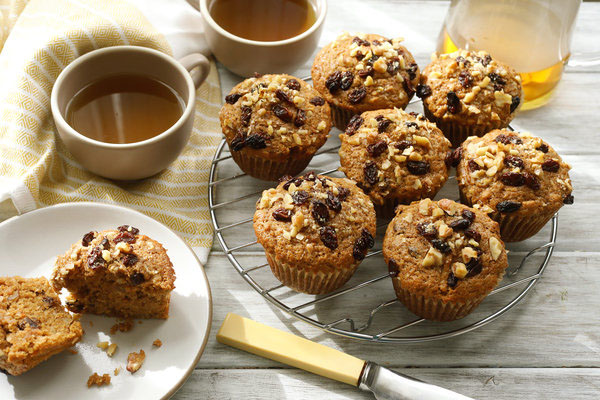 By Samantha Seneviratne - The New York Times
Yield 12 muffins
Time About 1 hour
Glory may be a big goal for the morning, but it is attainable. These nourishing muffins are packed with vegetables, fruit, nuts and coconut to keep everyone singing your praises well past breakfast. A bit of spice, brown sugar and whole-wheat flour round out the flavor and make them irresistible. If you're striving for even more accolades, try topping them with a swirl of cream frosting, which turns them into sweet and satisfying cupcakes.
Ingredients
1 cup/120 grams all-purpose flour
¾ cup/85 grams whole-wheat flour
1 ½ teaspoons ground cinnamon
1 teaspoon baking powder
½ teaspoon baking soda
½ teaspoon kosher salt
¾ cup/177 milliliters whole milk
¾ cup/160 grams packed dark brown sugar
2 large eggs
¾ cup/90 grams shredded carrot (from 2 medium carrots)
½ cup/77 grams shredded apple (from 1 medium apple)
½ cup/57 grams unsweetened shredded coconut, toasted
¾ cup/90 grams finely chopped walnuts, toasted
¾ cup/112 grams raisins
½ cup/ melted coconut oil
Preparation
Heat oven to 350 degrees. Line a 12-cup standard muffin tin with paper liners.
In a medium bowl, whisk together all-purpose flour, whole-wheat flour, cinnamon, baking powder, baking soda and salt. In a large bowl, whisk together milk, dark brown sugar and eggs until smooth. Stir carrot, apple, coconut, 1/2 cup of the walnuts and 1/2 cup of the raisins into the wet mixture. Stir in the melted coconut oil.
With a large rubber spatula, fold the dry ingredients into the wet ingredients until just combined. Do not overmix. Divide the batter evenly among the prepared cups. Sprinkle the remaining walnuts and raisins evenly over the tops of the muffins.
Bake until puffed and set and a toothpick inserted into the center of a muffin comes out clean, about 20 minutes. Transfer the muffins, in the tin, to a rack to cool for 5 minutes. Then remove the muffins from the tin and let cool completely on the rack. Once cool, store in an airtight container at room temperature for up to 3 days.